Understanding the need for donation and truths about the process are critical to helping people of all ages make an informed, educated decision about registering.
Created in 2017, this comprehensive guide contains lesson plans and resources for a variety of classroom and educational settings, including: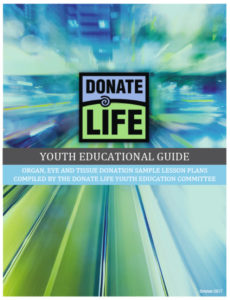 Driver Education (Grade Level 9-12, Ages 14-18)
Donation Basics (Grade Level 7-12)
Cellular Identity (Science, Health Careers for Grade Level 10-12)
Donation Debate (Science, Health, Health Careers for grade Level 10-12)
In Focus advanced reading materials for:

Cornea Donation & Transplantation
Tissue Donation
Organs That Can Be Donated
Deceased Organ Donation
Organ Transplants
Kidneys
Careers in Donation and Transplantation

Donate Life Stories of Hope
List of state education mandates
For schools and student groups who want to turn their donation education into action, the Unite4Life program offers a turn-key set of customizable materials and resources that make hosting donor registration campaigns easy and fun.  Program hosts can even set up their own registration pages on the Donate Life Texas website, track results and earn points toward prizes, including a $500 award!
This is an organ, eye and tissue donation initiative designed to support high school teachers and engage young audiences. Its design, interactive games, downloadable goodies, social media channels, and real-life stories appeal to students, who can readily register as donors in their state while on the site. There is also an "Educators" section where teachers can access a suite of videos, lesson plans, reading exercises, and activities in order to plan a lesson, unit or student project on donation.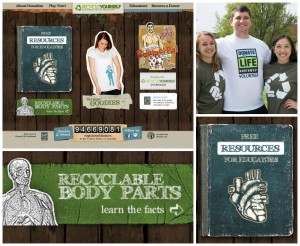 Driver's Ed Training Video
New drivers will be asked about joining the Donate Life Texas organ, eye and tissue donor registry when applying for that first license.  This video will help steer students to a better understanding of the importance of saying "yes" to donation.
"Pass It On" is a full English and Spanish curriculum supported by three award winning videos. The curriculum was developed by education and healthcare professionals for inclusion in school curricula, youth programs, scouting, church groups, and drivers' education. Age appropriate versions of the "Pass It On" curriculum are available for children in grades 4-8 and 9-12 as well as adults.

DLT and DPS Saving Lives Together — Employee Training Video
Employees with the Texas Department of Public Safety Driver's License offices ask thousands of Texans about joining the Donate Life Texas registry every day during the application and renewal processes for licenses and ID cards.  This video is just for these important advocates, with some great history about our unique and lifesaving partnership.